6 Alexandra Gardens: Dean House
6 Alexandra Gardens is now split into four flats, owned by the Hanover Trust. Like most of the houses in the street it has spend some of its life as holiday accommodation.
A few special people come to the fore at number 6. One such character is Mr Alfred Charles Phillips.
According to Kellys, Mr and Mrs Phillips lived in and ran a boarding house at number 6 from the late 1920's. In 1937/8 the Phillips acquired number 5, connected the two houses via doorways and ran their boarding house from both houses.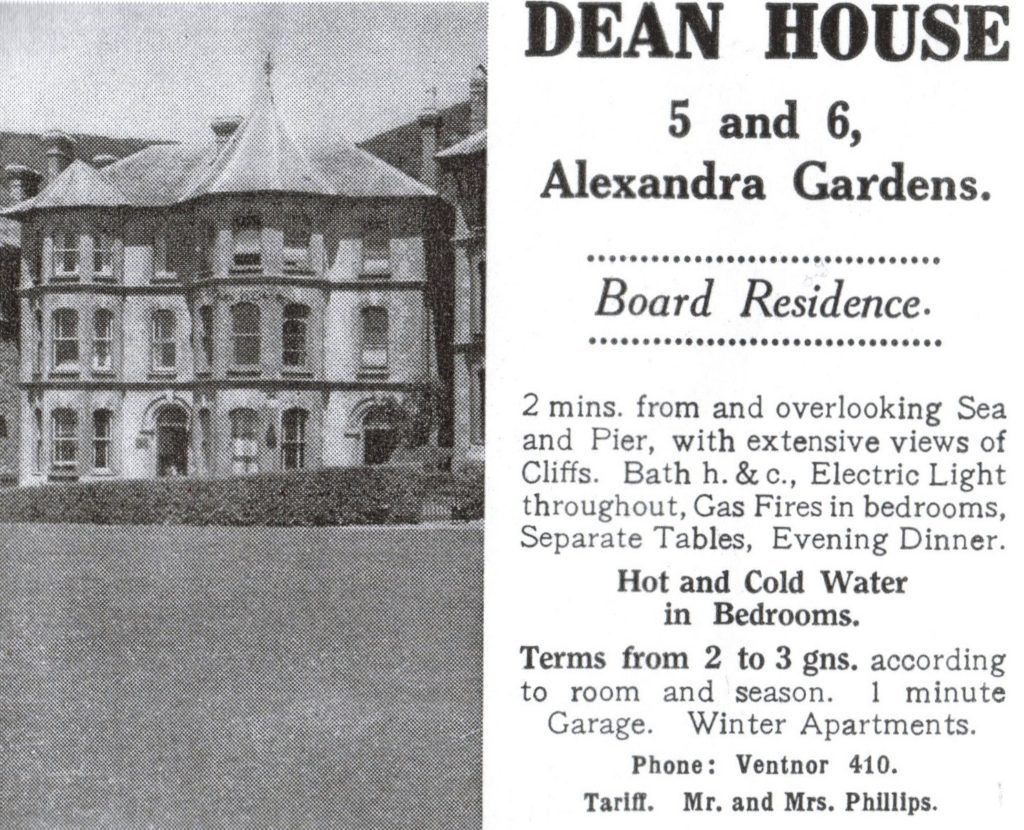 "Dean House" in the 1938 Ventnor Guide
Mr Phillips was originally a gardener at Steephill Castle, where he specialised in hot house flowers and fruit. Later he worked for Mr Drover at his nurseries, where the tennis courts are now in St. Boniface Road.
During their married life Mr and Mrs Philips ran many guest houses – in East Street (now Sherwood Rise), Chickenpit (Trafalgar House) and, of course, Dean House in Alexandra Gardens. He also ran a café at Salisbury Gardens in the early 1950's.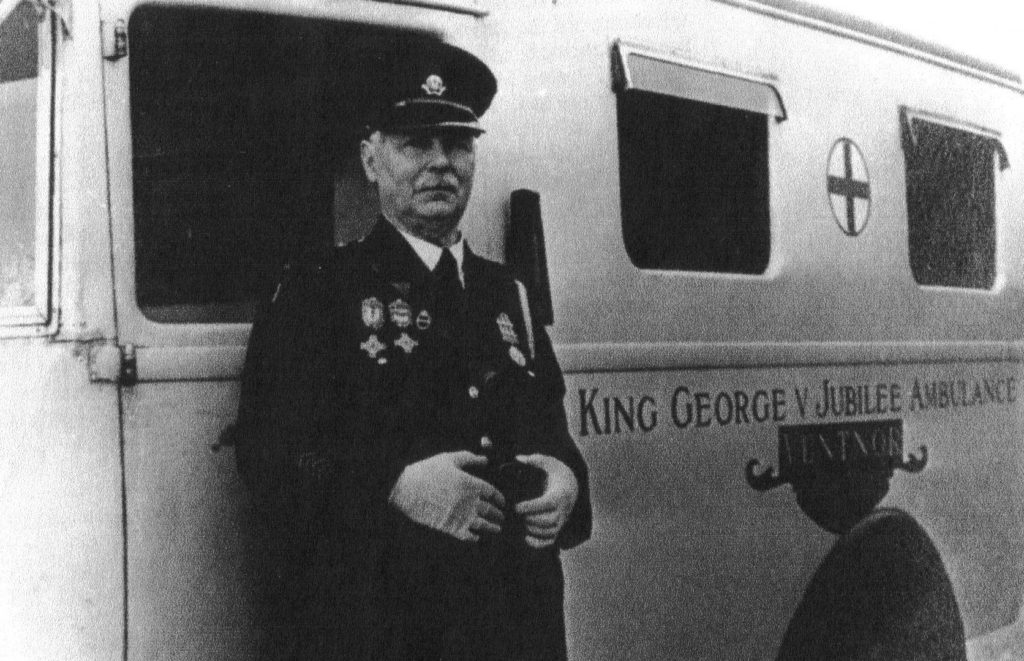 Alfred Phillips and the ambulance
From 1892 Mr Phillips had been a local preacher in island Methodist churches and at one time he was a circuit steward. For almost 70 years he served in the Red Cross, held the long service medal, and from 1948 he had been Commandant of the local section.
He was well-known throughout the district for his fine work on behalf of the sick, and it was largely due to his efforts that Ventnor had its own ambulance. He collected for the vehicle, known as the King George V Jubilee Ambulance, and was its driver.
During the Second World War children from Southsea were evacuated to Ventnor and stayed in Dean House.
Mr Phillips died in 1960 at the age of 87. By this time he had sold number 6 and was living at number 5. As a young boy of 11 years old Alfred probably saw Alexandra Gardens being built.

Thomas and Elsie Kay, another special couple, were the leaseholders and living in Dean House in 1975. In July of that year they bought the freehold for £300 from Sybil Knight.
In 1978 Thomas and Elsie donated Dean House to Help the Aged, on the understanding that only people of pensionable age could occupy the house.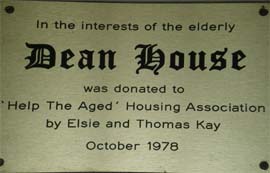 After Elsie died, it is believed, her ashes were buried in the garden of number 6. Certainly, to this date (2009) there is a container buried under the bird table, with a 'Do Not Disturb' sign on top of the container and it is protected by a large plastic top. After the death of Elsie her widower, Thomas moved to the mainland. It was said that he was offered suitable accommodation, for the rest of his days, in return for the house.
Dates
Here are some of the key names and dates associated with the house, gleaned from the Deeds, Kelly's Directories and other sources.
| | |
| --- | --- |
| 1886 | Shown as empty in Kelly's Directory |
| 1888 | Kelly's lists it as Sturge House with Miss Summers resident. |
| 1891-93 | A lodging house run by William Smith is listed in Kelly's. |
| 1891 | The 1891 Census shows that the house was a lodging house run by William Smith and his wife Fanny |
| 1894-99 | Shown as apartments run by Mrs Fanny Smith in Kelly's. |
| 1901 | Appears in the census as a lodgings house run by Mrs Rudge-Rootes with the help of a housemaid |
| 1904 | In Kelly's Directory as Lodgings run by Mrs Rudge-Rootes. |
| 1908 | Shown as vacant in Kelly's |
| 1912-22 | Occupied by Misses Trueman according to Kelly's. |
| 1923-24 | Kelly's shows that they had become apartments run by Mrs Kate Francis Trueman. |
| 1930 to about 1939 | The first reference to the name "Dean House" – shown in Kelly's as a boarding house run by Mr & Mrs Alfred Charles Phillips |
| 1947 | Kelly's lists it as a boarding house run by Mr & Mrs J H Gordon. |
| 1951 | A guest house run by Mark Thomas Bottley is listed in Kelly's – Mr Bottley was electrician to the Ventucky Minstrels. |
| 1975 | Occupied by Mr Thomas & Mrs Elsie Kay. |
| Oct 1978 | Donated to Help the Aged to provide accommodation for people of pensionable age. |