1 Alexandra Gardens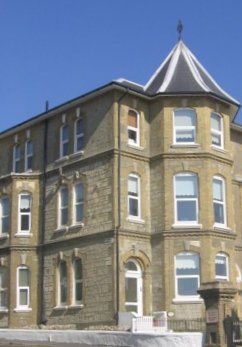 Alexandra House 2009
Alexandra House, 1 Alexandra Gardens, is in a striking position at the end of the street, bordering on Pier Street. It is currently split into four flats. Like number 2 it stands directly on the site where the Ventnor Mill building stood until its demolition in 1875.
Unlike most of the houses in the street, which quickly became apartments or small hotels, Alexandra House started life as home to a solicitor, William T Way Buckell, who lived in the house from 1886 until his death in 1902. William Buckell was the son of the first solicitor to open offices in Ventnor in 1847 – with the development of the town in second half of the nineteen century it was no doubt a busy office.
William Buckell was married to Sarah in 1887 and was a partner in Buckell and Drew Solicitors, now part of Glanvilles in Newport. Records show that in 1899 he was a member of the Council and a Freemason. His widow moved out of the house soon after his death, but came back to the street, number 5, around 1924 where she went on to become a councillor too, in 1927 until 1933. She died in 1937 – 35 years after William.
Dr Reginald Knight, a dentist, and his wife Sybil Knight lived at the house from 1910. In 1922 Sybil bought the freeholds to houses 1 to 6 which she gradually sold off, only owning 4 and 5 by the time of her death in 1977. After the death of Reginald, Sybil moved to Wareham in Dorset, the same address as Peggy Hill, possibly Reginald and Sybil's daughter.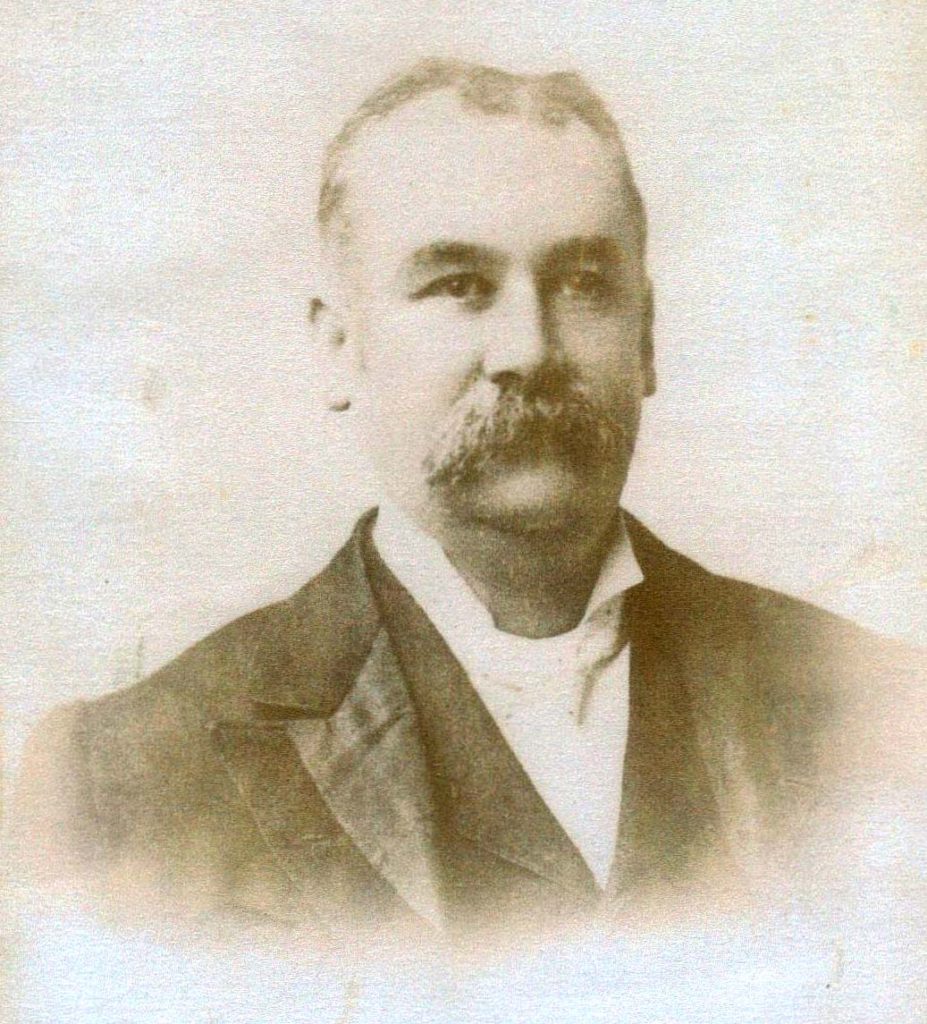 William Buckell
1 Alexandra Gardens continued to be a dental practice until 1948. First it passed to Cyril Gatwick Knight, later a partnership with Arthur Leslie Wells in 1936 saw the dental practice continue.
Cyril Knight was clearly a public spirited resident. On 15th May 1925 the Isle of Wight Mercury reported on its front page "Many people have to thank Mr C G Knight of Alexandra Gardens for his enterprise in enabling them to hear the King open the new Wembley exhibition. Mr Knight placed a fine loudspeaker at the open window and the whole proceedings were distinctly heard". This was less than three years after the British Broadcasting Company started wireless transmissions in November 1922.
In 1948 the house became the Alexandra Private Hotel before becoming the Alexandra Holiday Flatlets – six units and a basement flat – in 1963. In 1989 the six flatlets were converted into three flats.
The house suffered significant damage in the tornado which struck Ventnor in 1996 which ripped the roof off the building. The present fine roof was built as a replacement.
Dates
Here are some of the key names and dates associated with the house, gleaned from the Deeds, Kelly's Directories and other sources.
| | |
| --- | --- |
| 1886 | The first leasehold for Number 1 was drawn up, to Henry Linington, who sublet to William T Way Buckell Solicitor. |
| 1887 | A right of way was set up across the top of the outbuildings of Number 1 for access to the side door of Number 5 Alexandra Parade, then a printing works, now Number 33 Pier Street. |
| 1902 | A new water pipe was laid beneath the back yards of Numbers 1 and 2 to divert the Mill stream into 'The Triangle' (soon to become the cascade gardens). |
| 1904 | Kelly's show the house occupied by Mrs Quarrington who had it as apartments. |
| 1908 | Henry Linington sold to Reginald Douglas Knight, a dentist. |
| 1922 | Reginald Knight rented Number 1 to Cyril Gatwick Knight, also a dentist. The rent was £50 per annum with the option to purchase for £800. |
| 1929 | Cyril Knight did buy Number 1, for £800, from Reginald's widow, Sybil Irene. Unfortunately, they used 'an inexperienced recently qualified solicitor' for the transaction which lead to problems later. |
| 1936 | As the original documents were not legally sound, a 'Certificate of Assurance' had to be drawn up after properly completing searches etc. (There is much documentation in the Deeds about this!). |
| 1948 | Bought by Leslie George Meadows for £4600. Meadows then applied for a 'Change of use' for the building and converted it to 'Alexandra Private Hotel'. Cyril sold his Dentist practice and equipment to David Sinclair, also a dentist at 42 High Street, for £1300. |
| 1950 | Hotel bought by Henry Wilkinson Harms and Mollie Harms for £4250 plus £1350 for the effects. Henry (Harry) Harms was Station Master at Ventnor Station for 15 years. |
| 1956 | The Harms sold the hotel to Violet Beatrice Hicks and Catherine Gertrude Tansley for £3500 plus £1000 for effects. (They didn't do too well!). |
| 1965 | Violet and Catherine sold to William and Jeanne Ludgate. |
| 1963-65 | Alexandra Private Hotel was converted to Alexandra Holiday Flatlets, 6 units and a basement flat. Not sure if Violet and Catherine did the conversion, or the Ludgates, who also took out a mortgage. |
| 1971 | Permission was given to convert to 3 residential flats but the work was not carried out. |
| 1975 | Alexandra Holiday Flats bought by Wallace and June Turberfield. |
| 1976 | After less than one year sold to John Voultaire and Eileen Joyce Doone. |
| 1979 | The Doons sold the Holiday Flats to Kenneth Brian and Maureen Lomax for £29,750. |
| 1988 | The Lomax's sold to J and C Properties for £65,000. |
| 1989 | J and C Properties applied for permission to convert to 3 residential flats and carried out the conversion. |
| 1990 | New leasehold agreements were set up for Flats 1,2,3 and the basement. There have been various owners of the freehold and the four leases but the building has stayed as four separate flats. |
| 1996 | A small tornado struck Ventnor and ripped off the roof of Number 1. Henry Ingram and Sons carried out the repairs which included replacement of all the ceilings in the top flat. |
| 1998 | New iron railings and gate were installed around the property by Graham Potter of The Forge, Bonchurch. |
| 2009 | Tony and Jeane Minx owned of the freehold and all 4 flats. Over a period they modernised each flat and they were sold to long leaseholders. |